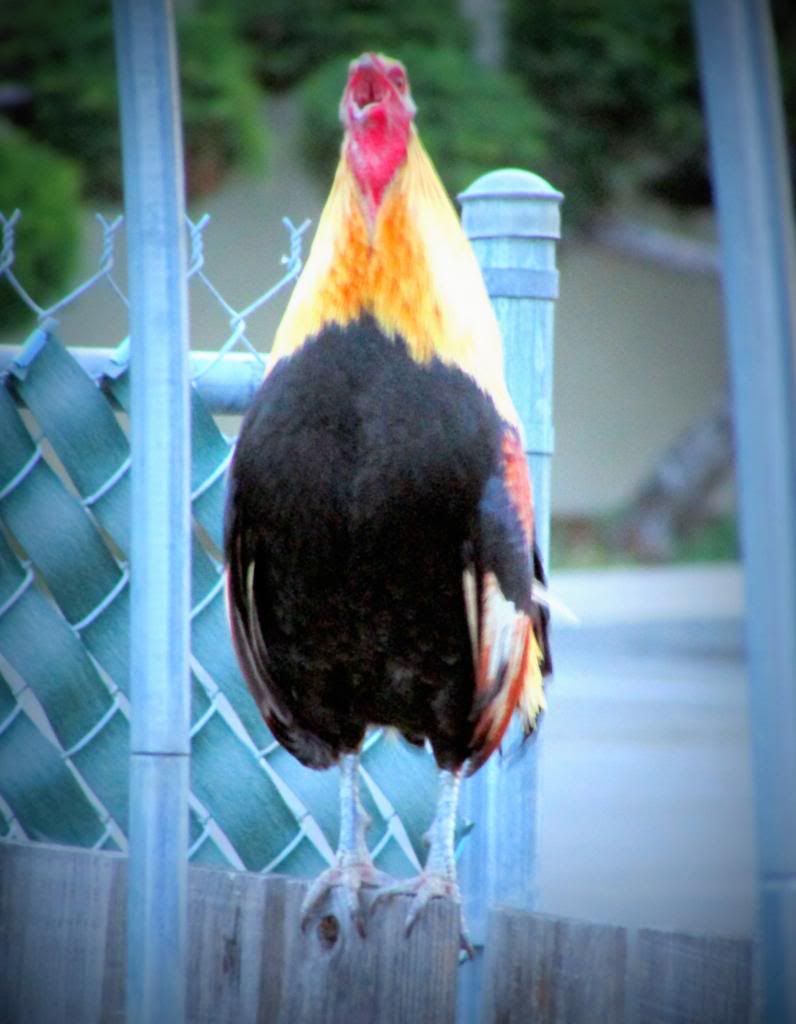 This crazy rooster! Remember when I said
he had returned
? Yeah... Pluses and minuses to his return, that's for sure.
That's him on our fence, crowing at 5:30 in the am. He had been crowing since before the sun was even up too. And boy he sounded close. No wonder! He was right on our fence!
Yohn wasn't thinking and at 5:30 let the dog outside. Koda, our German Shepherd would love to have this bird for a snack so I shot out of bed to ask him if he had checked to see if the rooster was in our yard before letting the dog out. He wasn't, thankfully, but was on our fence and we were fortunate that Koda was merely getting a drink, oblivious as it were, to the noisy alarm clock. After photographing chasing him down we let the dogs back outside.
Later that day, while Yohn was locking up the campus long around 9:30 pm, he noticed something funny on one of the chairs in our multi use room. At first he was thinking it might be a jacket, but decided to investigate further when it moved and found that the crazy animal was all cozied in for the night on the seat of a comfy chair. Apparently he snuck in earlier in the day and no one noticed he was there and locked him inside. I'm sure he was enjoying his accomodations when Yohn rudely placed him outside.
UPDATE: Sadly the adventures of Cornelius the Rooster may have come to an end as he has disappeared once again and who knows if he is gone for good this time or not.